Security Center
Keeping your information and your money safe is one of our highest priorities. We are honored that you are trusting us with your money and we pride ourselves on a high level of security and fraud prevention. There are many things that you can do to help prevent hacks and identity theft as well. Check out what we've put together for you…
What can you do to protect yourself?
Use these suggestions for all of your electronic business, not just with us here at Morris Bank.
PASSWORDS
Keep strong, hard to guess passwords. Make your passwords be at least 8 characters long, use at least 1 number and at least 1 capital letter. Try to mix in a special character also, like @ *$, etc. Get into a habit of changing your passwords every 90 days at a minimum, preferably every 45 days. When you do change your password, make sure not to repeat previous passwords. Also, don't just change the last number from say a 1 to a 2. Do not use the same password across all of the websites that you access. Stay away from using a spouses, parents, children, or pets names, or any information about you that can be found out easily. Protect your username and password at all cost. Never give your password to anybody, including anyone here at the bank. If for any reason you feel that your password may have been compromised, contact the bank immediately to get it reset.
EMAIL
Be extremely careful with email. Don't open an email attachment, even if it appears to be from a friend or co-worker, unless you're expecting it or are absolutely sure you know what it contains. Watch out for email subject lines or emails containing only a generic message such as "check this out" or "thought you'd be interested in this." Call the sender to make sure they sent the email before you open the attachment or click any links in the message.
Watch out for phony emails. Some things to look for are typos, grammatical mistakes, awkward language, missing words, extra spaces, and other signs that the email was written unprofessionally. However, attackers are getting better at creating phony emails that look legitimate, so if you feel at all uncomfortable about an email it is better to delete it. The sender's email address might look suspicious or such emails might also ask you to look at an attachment or click a link and then give your personal information on a Web page or in a form. Remember: We won't ask for confidential information such as your user name, password, personal identification number (PIN) or other account information in a text message or email, or over the phone unless you call us about an issue, such as something to do with your account. In that case, we'll ask you to verify your information so we know you're who you say you are.
SYSTEMS REQUIREMENTS
Install up-to-date anti-virus and anti-spyware programs on your home computers.
Use a personal firewall.
Download security patches and software/operating system updates in a timely fashion.
Use caution when using unsecure Wireless Hotspots, such as internet cafes or airports.
Enable security features on your home wireless network and use a strong password or key to prevent unwanted access.
Use strong passwords and keep them safe if you must write them down.
Don't overshare on social media by providing information used by your bank or other companies to verify your identity.
Learn to identify and avoid Phishing and Spear Phishing e-mails.
Review your financial statements as soon as they arrive for discrepancies or suspicious activity.
Shred all documents with personal or financial information before disposal.
Use care when participating in Social Networking sites, such as Facebook or LinkedIn. Do not reveal sensitive personal information, and modify your privacy settings to prevent strangers from viewing your pages.
MOBILE
Avoid sharing your phone or tablet with others, especially strangers.
Be sure no one is looking over your shoulder in congested public areas and reading information from your device's screen.
Sign out of your session when you're finished.
Don't store your password in other apps on your mobile device, such as in a note-taking app.
Avoid tampering with your phone's operating system. This is called "jailbreaking" on an iPhone® and "rooting" on an Android™ phone.
Always use official app stores to download any app.
Use caution when using unsecure Wireless Hotspots, such as internet cafes or airports.
Keep the Morris Bank BLUEmobile app up to date.
MONITOR YOUR ACCOUNTS AND CREDIT REPORT
Report lost or stolen checks and debit or credit cards immediately.
Monitor your transactions online regularly and report suspicious charges promptly. Consider paperless options for your bill and financial statements.
Set up account alerts so you will be notified of withdrawals and deposits to your account and suspicious card activity.
Limit the amount of information printed on your checks to your name and address.
Always keep your debit and credit cards in a safe and secure place.
Do not give out your card number over the phone unless you initiated the call using the phone number on the back of your card or the company's website.
If you receive a replacement debit or credit card, cut up and discard your old card.
Look over your credit reports carefully—and at least once a year. You can request a free annual credit report from each of the 3 national credit reporting agencies, whether or not you suspect any unauthorized activity on your account, by visiting www.AnnualCreditReport.com or calling 1-877-FACTACT (1-877-322-8228). Or you can request the reports by directly contacting each of the agencies below. They can also tell you about setting up fraud alerts and security freezes:
Look out for credit inquiries from unfamiliar companies, accounts you never opened and unexplained debts; all of these could be warning signs of fraud and identity theft.
What we are doing to protect you?
Advanced Login Authentication (multi-factor)
Advanced Login Authentication uses the phone channel to obtain a one-time passcode to confirm authentication. The solution offers both SMS Text and Voice Interaction. In our experience the majority of the customers choose Voice Interaction.
To start the process, the user is presented with a list of the phone numbers on record in OLB.
Up to six telephone numbers are supported and can include domestic, international and extensions.
Note: The phone number field in OLB is required for all new users. Existing users can be prompted to update their phone numbers or the Bank is able to update the number on their behalf in Web Admin.
The workflow screens appear as a model dialogue over the Login Screens. The first box looks like this: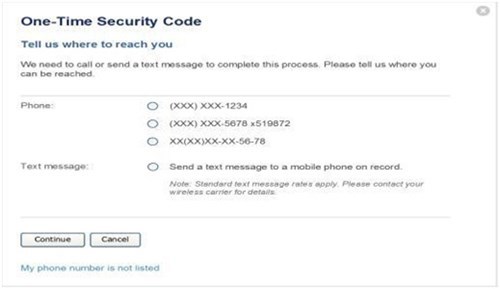 The customer can choose any number listed to receive the voice interaction. Voice interaction works well on Mobile Devices as well as Land Lines. There are no restrictions in the Voice Phone network that would prevent a call from going to any device.
When the customer selects to get an SMS Text, they enter in the phone number where they want the SMS message to go as a way to give us permission to send the SMS Text (Mobile Carrier Requirement). OLB will verify the number matches one of the numbers already listed for the customer. If it does OLB will send the SMS Text to the number the customer entered.
Protection of Information via Established Security Procedures
We maintain rigorous security standards and procedures regarding unauthorized access to customer information.
Restrictions on the Disclosure of Account Information
We do not reveal customer account or other personally identifiable information to unaffiliated third parties for their independent use, except for the exchange of information with reputable reporting agencies to maximize the accuracy and security of the information or in the performance of bona fide corporate due diligence. There are however, exceptions that we must honor on behalf of our customers:
The information is provided to help complete a customer initiated transaction.
The customer requests it.
The disclosure is required by/or allowed by law (e.g. Subpoena; the investigation of fraudulent activity).
Maintaining Customer Privacy in Business Relationships with Third Parties
Whenever we provide customer information to a third party, we insist that the third party adhere to similar privacy principles for keeping such information confidential.
MORRIS BANK is dedicated to the protection of its customers' privacy. All personal and financial information submitted through the MORRIS BANK Web Site will be kept accurate, secure and confidential.
Electronic Fund Transfer Disclosure and Agreement - Click here for more information.