Gray Fire Department Receives Funding for Car Seat Safety Program
March 20, 2023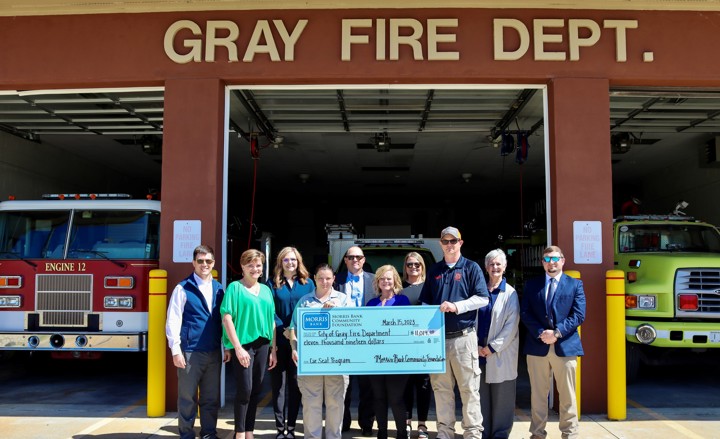 The City of Gray Fire Department recently received a check for $11,019.00 from the Morris Bank Community Foundation for their car seat community safety project. The donation will allow the department to purchase 50 new car seats and bases to serve Jones County families during times of need.
The Car Seat Safety Program is a service for residents of Jones County that allows the Fire Department to check parents' car seats and ensure that children in the community are traveling safely every day. This includes scheduled checks at the fire house, car seat check events, and responses to vehicle accidents involving children in car seats. Heather Johnson, Captain of the City of Gray Fire Department, said, "One in three children are riding in a car seat that is expired, installed incorrectly, incorrectly sized for the child, or in which the child is placed incorrectly." The goal of the program is to train fire and law enforcement officers to become instructors for car seat use, and to provide citizens with a professional resource to reach out to for assistance.  "This donation from the Morris Bank Community Foundation is greatly appreciated and will serve our community well," says Johnson. "It helps us reach our goal of educating our citizens to help prevent future harm or injury, especially involving children."
This program is created in partnership with Safe Kids Georgia and will launch an online platform where the Jones County community can see all upcoming safety events. If you are interested in learning more, please visit www.grayfd.com.