Morris Bank Community Foundation Presents Check to FERST Readers of Laurens County
May 18, 2022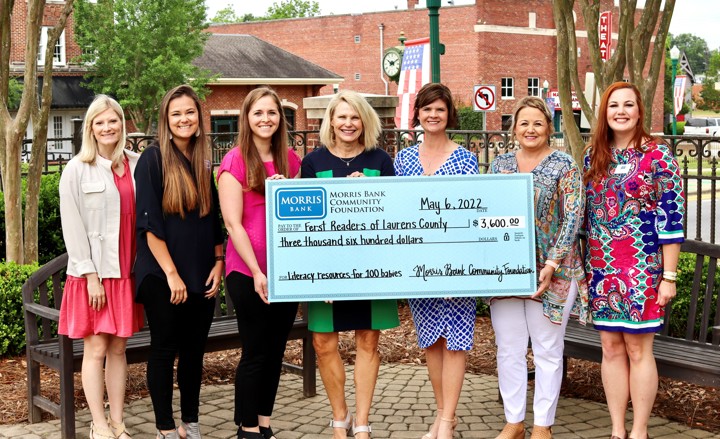 FERST Readers of Laurens County received a grant from the Morris Bank Community Foundation for $3,600 to fund a local literacy initiative. These funds were used to purchase book subscriptions for 100 babies born at Fairview Park Hospital in Laurens County. Once a child is signed up for the program when they are born, they will receive one book a month until the age of five to help foster literacy development.
The FERST Readers of Laurens County's mission is to strengthen the Laurens County community by providing quality books and literacy resources for children and their families to use at home during the earliest stages of development. "We are so thankful to work alongside a community with such a strong support system of businesses like Morris Bank and their Community Foundation," says Ronda Walker, FERST Reader local chairperson. "These partnerships are what allow us to continue making an impact in the lives of so many children here in Laurens County. In addition to the books, we host literacy events within the area to reinforce and accelerate our educational initiatives."
The Morris Bank Community Foundation was formed in 2017 and exists to help support and sustain local organizations within the communities they serve. Simply put, Morris Bank wanted to give back to the communities that have allowed them to grow. Through this program, financial grants are awarded to strengthen and support organizations such as local schools, community and faith-based institutions, government institutions providing public services, non-for-profits and other 501(c)(3) organizations. For more information, visit www.morris.bank/mbc-foundation.
Photo Details: Left – Whitney Kilgo (MBC Foundation), Karly Currie (MBC Foundation), Kathryn Willcox (MBC Foundation), Ronda Walker (FERST Readers), Leigh Ann Tribble (Dublin Service League), Leslie Pennington (MBC Foundation), Alexa Dupriest (MBC Foundation)