Dodge County Hospital Receives $100,000 Georgia HEART Program Donation from Morris Bank
January 20, 2022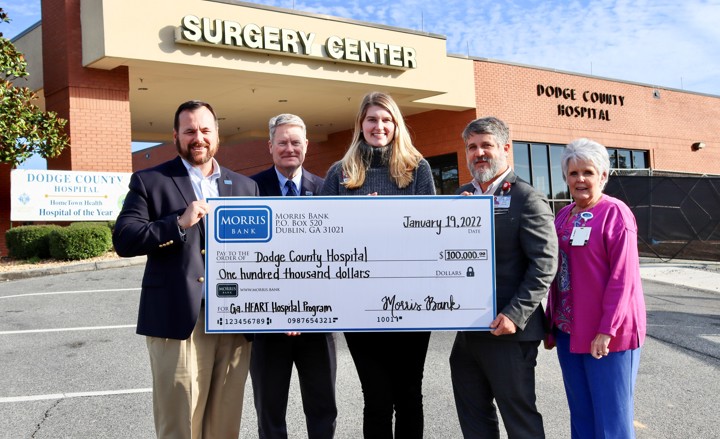 Dodge County Hospital is excited to be the recipient of a Georgia HEART Hospital Program grant of $100,000 donated by Morris Bank. These funds are used as part of the program's initiative to help financially assist rural and critical access hospitals in Georgia. By increasing their funding, the program helps provide and sustain quality healthcare to thousands of patients throughout the state.
"Morris Bank has been a participant in the Georgia HEART Program for several years now, and we are very thankful for their continued support," says Dodge County Hospital's CEO, LaDon Toole. "Their contributions have made such a difference within our hospital, and we are very blessed and pleased to receive their donation for the 2022 year." Jan Hamrick, CFO of Dodge County Hospital, says "overall, this program has made a huge financial impact within our hospital and has allowed us to provide excellent healthcare to our patients and community."
"We feel privileged to be able to partner with the Georgia HEART Hospital Program and to see how our donation directly impacts our neighbors at Dodge County Hospital," says President and CEO of Morris Bank, Spence Mullis. "These past two years have reminded us all of the critical importance of quality healthcare and its impact on all aspects of our communities and industries. We appreciate all they do to care for and serve their patients."
The Georgia HEART Hospital Program works in conjunction with the Georgia Rural Hospital Tax Credit Bill (Senate Bill 258), enabling businesses and taxpayers to redirect their Georgia income tax liability to help support qualifying hospitals. Participation in the Georgia HEART Program is limited to Georgia hospitals that meet qualifying criteria established by the law.
Photo Details: Left – Spence Mullis (President/CEO, Morris Bank), Roger Miller (Market President, Morris Bank), Rachel Fishler (Ga. HEART Rep.), LaDon Toole (CEO, Dodge County Hospital), Jan Hamrick (CFO, Dodge County Hospital).