Morris Bank Community Foundation Gives $24,000 Through Their "12 Days of Christmas" Grant
December 12, 2022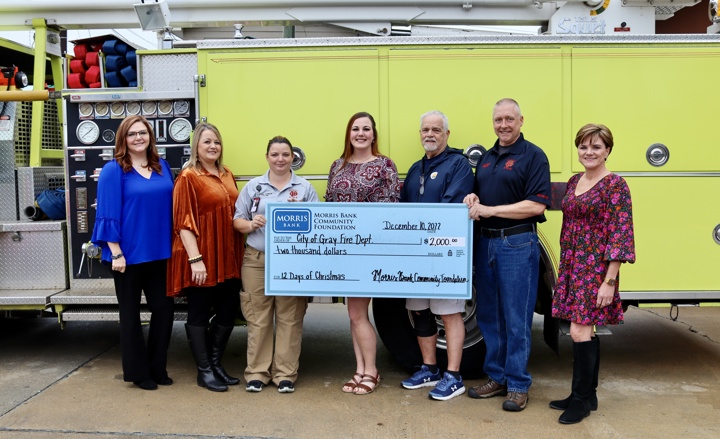 The Morris Bank Community Foundation recently announced the recipients of their first annual "12 Days of Christmas" grant. From December 1st-12th, the bank posted one winner a day on their Facebook page, each receiving $2,000 to go towards a project or need within their organization. Recipients submitted their applications on the Morris Bank website and the Community Foundation board met to select the winners.
"This year has been tough on funding for many non-profit organizations within the communities we serve," said Whitney Kilgo, Executive Director of the Morris Bank Community Foundation. "With this in mind, our board wanted to find a way during the Christmas season to make an impact and show our appreciation to twelve local community organizations. The "12 Days of Christmas" grant has been such a special way for us to not only learn about services in our community, but to help them fund projects or needs they have this holiday season." Kilgo mentioned how tough the decision process was for the Morris Bank Community Foundation board.
The winners are based in each of the counties where Morris Bank branches/ATMs are located: Laurens, Jones, Wilkinson, Houston, and Bulloch counties.
Day 1: Safe Haven/Citizens Against Violence—Safe Haven's mission is to serve, strengthen, and support adults and child victims of domestic violence through the provision of their emergency shelter and community-based services. The funds from Morris Bank's grant will go to help repair plumbing needs in their facility.
Day 2: Women In Need of God's Shelter, Inc.—W.I.N.G.S. supports families in their efforts to live violence-free by promoting safety, advocacy, empowerment, and education. The "12 Days of Christmas" grant will go to purchase new play furniture and accessories for their shelter playroom.
Day 3: Happy Hour Service Center—Houston County Association for Exceptional Citizens, Inc., also known as Happy Hour, is an organization dedicated to serving individuals with special needs in Houston County. They offer training in life, social, and work skills to enable the participants to function and thrive in the community. The $2,000 fund will go towards purchasing Christmas gifts for each of their 130 disabled adults.
Day 4: "The Button Project"—Connection Church of Statesboro started "The Button Project" to discreetly provide free personal hygiene items to middle school students in the county. These grant funds will be used to help purchase items for their distribution.
Day 5: Buckhorn Food Ministry—Buckhorn United Methodist's food ministry distributes goods to those who are food insecure or financially challenged in the Laurens County area. In addition to their food pantry, Buckhorn coordinates a food truck to come to the county monthly, serving approximately 250 households, or 1000 individuals. Funds from this grant will go to purchase additional food to stock their pantry.
Day 6: J.O.Y. Health Clinic—This medical service is a faith-based organization in Laurens County dedicated to providing compassionate and quality healthcare to the working, uninsured and underserved in our community. Physicians and staff volunteer their time to see patients during weekly clinic hours. Funds from our 12 Days of Christmas grant will go towards purchasing prescriptions for patients who are served at their clinic.
Day 7: Ocmulgee Court Appointed Special Advocates, Inc.—CASA supports neglected, abused, or otherwise dependent children by representing their voice and best needs in court proceedings. The grant funding will go to purchase toiletry items for kids in the Jones County region who have been removed from their families and placed in foster care.
Day 8: Foundations Resource Center—This organization is dedicated to walking alongside women and families in the Bulloch County community as they face crises and challenges surrounding pregnancy and parenting. They offer free testing, ultrasounds, and resources in prenatal and parenting education. The $2,000 fund will go towards purchasing curriculum and supplies for their educational programs.
Day 9: Stepping Stone Child Advocacy and Sexual Assault Center—Stepping Stone is based in Laurens County and serves victims of child and adult abuse, neglect, and sexual assault in Middle and South Georgia. The staff provides a comfortable environment where individuals who have suffered trauma can come and receive services and evaluations in a safe and caring place. The funds from this grant will be used to help renovate their kitchen with new appliances for their staff and those they serve.
Day 10: City of Gray Fire Department—The Gray Fire team is always working on their mission to provide citizens with a professional, highly trained and compassionate staff, to mitigate any emergency situation. Their $2,000 grant funding will be used to purchase smoke alarms and batteries to serve residents the Jones County community.
Day 11: Statesboro Food Bank—This organization works year-round to provide emergency food to Bulloch County residents who experience food insecurity. The Morris Bank Community Foundation grant funding will go to purchase food to help keep the food bank stocked during the holiday season.
Day 12: The Therapy SPOT—Therapists at The Therapy SPOT partner with AMBUCS to provide mobility and independence by funding and donating adaptive Amtryke tricycles to children and adults with disabilities. Funding from our 12 Days of Christmas will be able to purchase two tricycles for children served in the Bulloch County community.
The Morris Bank Community Foundation was formed in 2017 and exists to help support and sustain local organizations within the communities they serve. Simply put, Morris Bank wanted to give back to the communities that have allowed them to grow. Through this program, financial grants are awarded to strengthen and support organizations such as local schools, community and faith-based institutions, government institutions providing public services, non-for-profits and other 501(c)(3) organizations. For more information, visit www.morris.bank/mbc-foundation.