Morris Bank Donates $100,000 to Dodge County Hospital
August 20, 2020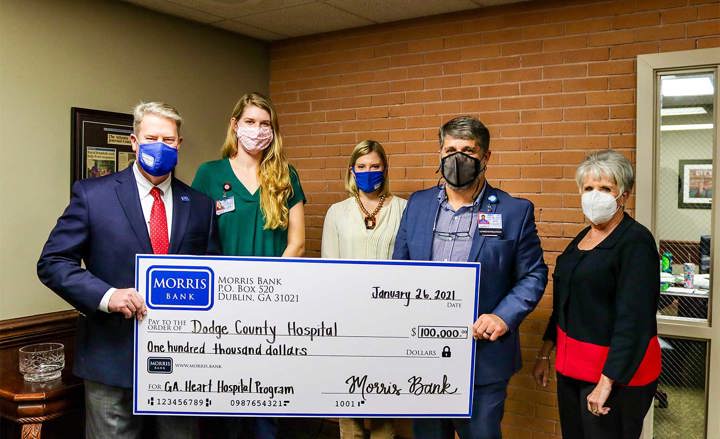 As part of the Georgia HEART Hospital Program, Dodge County Hospital recently received $100,000 donated by Morris Bank to help support the rural community and their healthcare needs. The program's purpose is to help financially assist rural and critical access hospitals within Georgia to increase funding and provide quality healthcare to thousands of patients state-wide.
"Morris Bank is proud to help support the healthcare needs of our neighbors in Dodge County," says President and CEO of Morris Bank, Spence Mullis. "As we assess the past year, we couldn't think of a more deserving industry to provide this donation to, and we are pleased to support the efforts of Dodge County Hospital to help continue their mission of community health."
The Georgia HEART Hospital Program works in conjunction with the Georgia Rural Hospital Tax Credit Bill (Senate Bill 258), enabling businesses and taxpayers to redirect their Georgia income tax liability to help support qualifying hospitals. Participation in the Georgia HEART Program is limited to Georgia hospitals that meet qualifying criteria established by the law. To learn more about the program, visit https://www.georgiaheart.org/.
About Morris Bank– Morris Bank is a community bank rooted in Middle and South Georgia with branches in Dublin, Gordon, Gray, Houston County, and Bulloch County. In an ever-changing banking environment, Morris Bank still takes a common-sense approach and leverages practical financial solutions. Decisions have been made locally since 1954, and the Morris Bank team is ready to make banking easy for you. To learn what it means to Bank Blue or to find out more about our Code Blue philosophy, visit www.morris.bank. Member FDIC.