Morris Bank Community Foundation Presents Check to Warrior's Wellness and Recovery Ranch
August 24, 2021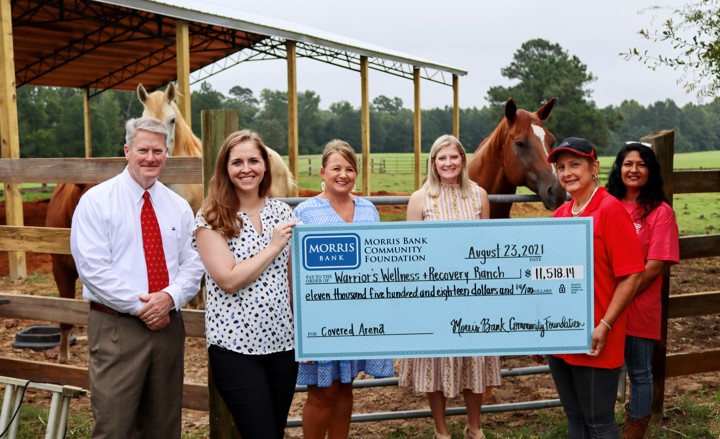 Warrior's Wellness and Recovery Ranch, Inc. in Dublin recently received a grant from the Morris Bank Community Foundation for $11,518.14. These funds were used to purchase a covered arena for the facility to ensure that equine services could be used come rain or shine. After the structure was installed, members of the foundation visited the site for a facility tour and learned more about how their donation would impact the services provided at the ranch.
Marla Roche, LCSW, BCD, Founder and Executive Director of Warrior's Wellness and Recovery Ranch, started the initiative in January 2020 and brings 13 years of mental health experience to the program from her work at the VA. "We are a 501(C)(3) that offers equine therapy services and provides a setting for participants and families to choose their own treatment plans," says Roche. "Working with veterans on a daily basis is more than just a job for me; I saw the need for a safe haven dedicated to serving veterans, active military, first responders, and their families, and I wanted to take action to help."
Warrior's Wellness and Recovery Ranch Inc. maintains clinical providers on standby who are certified in groundwork therapy, along with trained therapy horses. "With equine, we do very little talking by letting the interaction with the horses speak to the participant. Being around horses and being able to process past experiences is so healing," says Roche. The experience allows participants to let their guards down and really understand what triggers painful memories. "We can't do away with the trauma that's a part of their life, but we can help make sure it's not controlling their life."
The Ranch sits on 19 acres of land on Valambrosia Road and is available by appointment. To date, Marla and her team have worked with over two dozen veterans and family members to help foster healing and recovery from traumatic experiences. "We couldn't have made it this far without the help and financial support of our community," says Roche. "The Morris Bank Community Foundation has been such a blessing and we are fortunate to be able to serve more participants and families because of their donation."
The Morris Bank Community Foundation was formed in 2017 and exists to help support and sustain local organizations within the communities they serve. Simply put, Morris Bank wanted to give back to the communities that have allowed them to grow. Through this program, financial grants are awarded to strengthen and support organizations such as local schools, community and faith-based institutions, government institutions providing public services, non-for-profits and other 501(c)(3) organizations. For more information, visit www.morris.bank/mbc-foundation.
Photo Details: Left – Roger Miller (Morris Bank), Kathryn Willcox (MBC Foundation), Leslie Pennington (MBC Foundation), Whitney Kilgo (MBC Foundation), Max (Therapy Horse), Marla Roche (Founder/Executive Director WWRR), Irma Mondragon (Mondragon Construction)